Theme parks in the U.S. are great venues for innumerable travelers of any age group. These theme parks are outdoor playgrounds where you can have a fabulous time enjoying the entertaining live programs, arcade games, and thrilling rides that can give you an adrenaline rush.
You can also spend some amazing moments with your favorite characters from fairy tales and cartoons. If you ask anyone about the most popular amusement park in the United States, it would be Disney without a doubt. However, there exist several theme parks across the length and breadth of the country. Get to know more about them.
Disneyland Park – Anaheim, CA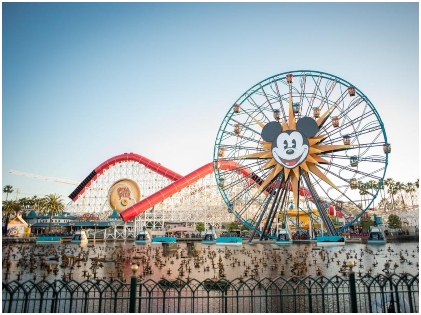 Walt Disney came up with Disneyland Park in the year 1955. It features around eight themed areas where you can treat yourself with live music, colorful characters, rides, as well as street parades.
One of the most popular and best theme parks in the United States, Disneyland is on Disneyland Drive. If you are one of those who are out and out thrill-seekers, then you can have a whale of a time at the Pirates of the Caribbean, Haunted Mansion, and of course, the Space Mountain.
Young kids and families can visit the Sleeping Beauty Castle and meet the iconic Disney princesses at the famed Royal Hall. The doors are open from Monday to Thursday, 8 a.m. to midnight, Friday to Saturday, 9 a.m. to midnight, and Sunday, 8 a.m. to midnight.
Universal Studios Florida – Orlando, FL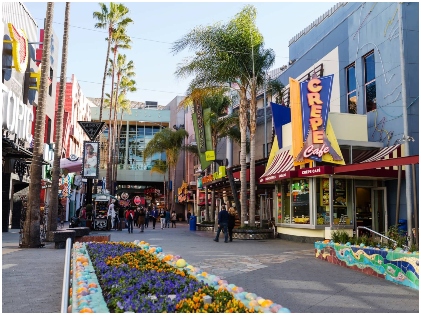 The rides and attractions are the topmost draws for the crowd at Universal Studios, Florida. So, what can you expect when you drop in there? You can meet and shake hands with the lovely yellow Minions from the animated comedy film, Despicable Me. Save yourself from the vicious alien attacks whom you know from the Men in Black days. Or fly around with The Simpsons and relish your travel across Springfield. You could also lose yourself in the magical world of Harry Potter.
The movie experience you would have here is immersive owing to the state-of-the-art technology that is there. Universal Studios is at Universal Boulevard in Orlando, Florida. It's open on all days of the week from 9 a.m. to 9 p.m.
Luna Park – Brooklyn, New York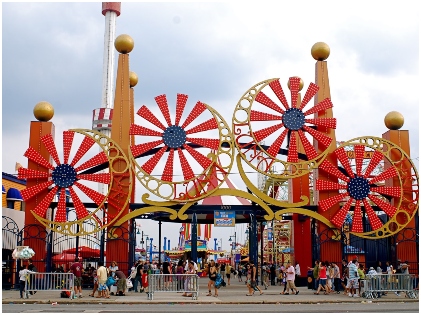 The foundation stone of the Coney Island theme park was in the first half of the 20th century. Visitors from all age groups can spend some scintillating time here, enjoying over 25 thrilling rides, and a host of arcade games. Luna Park is among the busiest theme parks in the U.S. The Coney Island Cyclone. A famous roller coaster ride is one of the prime attractions of the place.
It has been giving the visitors an adrenaline rush since the year 1937. It has 12 drops, as well as 27 elevation changes. Aside from that, the 26-meter plunge which boasts of a speed that reaches up to 60 mph is surely something you can't afford to miss. Luna Park is on 1000 Surf Avenue and is open on Monday – Thursday between 10 a.m. and 7 p.m. and on Friday to Sunday between 10 a.m. and midnight.
Cedar Point – Sandusky, Ohio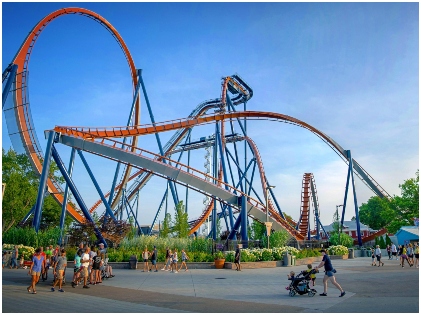 With over 70 thrilling rides, out of which 17 are roller coasters of different sizes and speed—Cedar Point the places to be if you are looking for something exciting.
Cedar Point came up in 1870 and happened to be one of America's oldest theme parks. Valravn, the dive coaster, is much popular among the crowd. It rides up to a height of 67 meters before dropping straight at an angle of 90 degrees.
That's daunting indeed, but you must give it a try. In case you are looking out something less frightening, try out kid-sized slides, mini cars, carousels, and water playgrounds. 1 Cedar Point is the most happening place in Ohio. It's open on Sunday – Thursday between 10 a.m. and 11 p.m. and on Friday – Saturday between 10 a.m. and midnight.
Theme parks always occupy a special place in the hearts of the thrill-seekers. They are perfect entertainment zones for kids as well. Next time if you are thinking of where to take your kids out for a holiday, you can take these theme parks into account. You won't repent for sure as they have something for everyone. Besides giving you a fun day, it gives you a million memories to cherish for a lifetime!