Few of us ever think of living to an age older than a hundred years old. We only see as far as 70 or 80, and that's it! Life expectancy has no doubt increased with better medicine and technology. But still, it is a wonder when people reach the age of a hundred! The legendary Kirk Douglas never thought he'd see his hundred years, and this is what he shared on his 100th birthday.
The star celebrated his 103rd birthday with his closest friends and family in 2019! We feel the need to look back on the star's life and his journey to success. He will always be remembered for his contribution to the entertainment industry.
Kirk's Roots
Looking back on Kirk Douglas' life, he was always a charmer! A man of chiseled features and a glint in his eye that seems likely to have caught the attention of many ladies, Douglas was certainly a ladies' man! Kirk Douglas wasn't always known by this iconic name. He was born Issur Danieovitch and later called Izzy Demsky. Douglas was born to Russian Jewish immigrants. He worked several odd jobs before he made his way to the stage. Douglas was a bellhop, an usher, a professional wrestler, and a waiter, all before graduating from St. Lawrence University. His many minor roles in Broadway eventually bloomed into a pathway to Hollywood! Douglas' debut film was titled The Strange Love of Martha Ivers.  
Kirk's Rise to Stardom
Come 1949 and Douglas earned himself star status and an Oscar nomination with his performance in Champion as a ruthless boxer. Naturally, Kirk was a perfect fit for the rugged and flawed yet intensely attractive macho man. This was in line with his on-screen roles too. His athletic physique, husky voice, deeply cleft chin, and manly persona were fitting for the role of the hero or antihero! He came to work with many highly regarded directors of the 50s, and one of the most memorable characters in his lifetime came in 1956 when he acted as Vincent Van Gogh in Lust for Life (another movie he earned an Oscar nomination for!).
Kirk's Star Shone Bright
Kirk Douglas continued being a gold-plated name in Tinsel Town, and his status as a top-box office actor continued for decades. He enjoyed some great films in his late career, like Tough Guys, The Brotherhood, and The Man From Snowy River. In the 70s, Douglas tried his hand at directing, directing Scalawag in 1973 and Posse in 1975.
A Health Scare
Way back in 1995, everyone thought Kirk Douglas was going to leave the industry for good. He suffered a stroke of a life-threatening degree. However, true to his image, he was back to work as though nothing had ever happened to him just four years after the horrifying scare! He portrayed the lead in Diamonds and added a couple more credits to his acting portfolio. While Kirk Douglas is undoubtedly a skilled actor, he also authored several best-sellers like Dance With the Devil, The Gift, and autobiographies as well. Douglas sure does have many talents!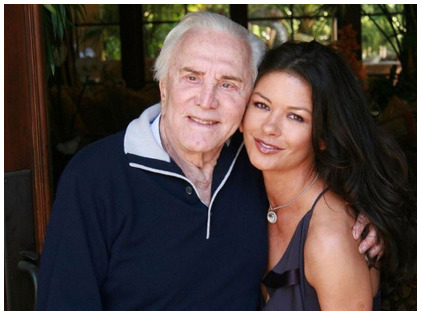 Like any older man, Kirk Douglas much prefers a quiet celebration for his birthday – something small like a dinner with only immediate family. Of course, when he turned 100, the last thing he wanted was a massive party for it. He also gave it his fullest to celebrate his one hundred years of making the world a better place! But then came 101 and another party, 102 and another celebration, and now 103 and another celebration! Kirk's son Michael Douglas and his wife Catherine Zeta-Jones posted pictures taken with Kirk in celebration of his 103rd birthday, showing how much they love and support him.
The Douglas family is undoubtedly a close-knit one, and it's touching to see how loved good old Kirk Douglas is! While he is now moving around in a wheelchair and the signs of aging are apparent. We have our fingers crossed that Kirk could join us for a few more years, as losing a star like Kirk Douglas would be painful. He's in rather good health for his age, and is receiving a huge shower of happiness and love from his kith and kin – we think he can count on more time with everyone, for sure!