Humans are curious creatures, and we have been exploring the world since the beginning of time. Because of our endless fascination with the mysterious and the unexplained, we've broadened our horizons and took a giant leap further to the great beyond. Going to the moon was just step up, showing us images of how our world looks from space. This opened up so many opportunities for us in terms of space exploration, and we made sure to take as many as we could. With limited resources, we couldn't execute everything we wanted, but we have made progress.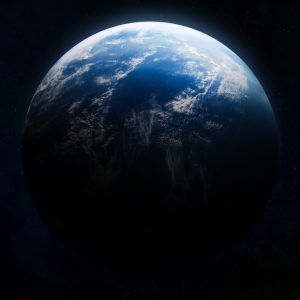 With great advancements in technology, we have discovered things that we had only read about in books or that we had heard about in simple theory. An amazing occurrence happened recently when NASA successfully took a picture of a black hole — something we considered almost impossible at the starting of this decade.
This achievement was not the last one for them though as NASA recently set out to now explore a new rock in space. It is none other than the largest moon of Saturn called Titan. NASA has chosen a drone called Dragon Fly for this purpose which will help us see a completely new landscape. Are you excited? Because we sure are!
This mission is actually a part of the space agency's already running program — NASA's competitive New Frontiers program which is basically a nuclear-powered mission in which NASA has taken various steps to explore space such as sending the New Horizons spacecraft to Pluto.
Considering the active work that NASA carries out with missions that are yet to be undertaken, it is not surprising to know that initially, Dragonfly had many other missions. It was even considered for a mission where it had to collect samples from a nearby comet. That might have yielded interesting results as well, but we guess for everyone whose curiosity goes beyond the skies, exploring Titan seemed more appealing. With so much to exploring yet to do and such limited resources and funds, choosing just one mission must be pretty difficult.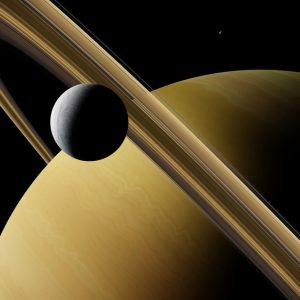 Considering the distance there is between planets and their respective moons, it makes sense that the drone will reach Saturn's largest moon in eight years. The space agency has divulged that they are planning to launch Dragonfly in 2026. If all goes to plan, then the drone will reach Titan in 2034. This means patience is of utmost importance for this mission, just like all others.
According to the information released, NASA plans to land the drone on Titan's dunes first and then on a crater. Their expertise is probably helping them with this so we trust them to know what they are doing. Especially considering that this mission's development costs are going to amount to $850 million, so space for mistakes is very small.
With such a whopping budget for this mission alone, let's see what's so special about the chosen destination. Saturn's largest moon can only be described as one with a thick atmosphere. The haze-covered world has lakes of methane, mountains of ice, and an ocean below the surface — a very peculiar and interesting combination. It's something we have seen in sci-fi movies but not in real life; it would be fascinating to witness something that we've only seen in movies in real life! For scientists, this is what makes it an interesting and attractive destination because, through exploration, they will be able to determine whether or not its environment can support primitive life.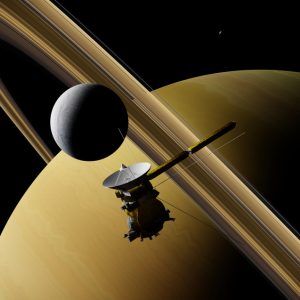 A chance of discovering new species? We are keen to see its outcome! The project leader of this exciting and expensive mission is Elizabeth Turtle of John Hopkins University. The information that they have from past expeditions include the Cassini-Huygens mission. This spacecraft ended two decades of exploration when in 2017, it plunged into Saturn.
Let's hope Dragonfly does not have the same end. Instead, we hope it proves successful in its mission, allowing us to discover even new aspects about this universe that will probably leave us in awe. With so much left to explore, this is one thing that the NASA scientists must be happy about crossing off their list. The possibilities of this mission are endless and what its results do for us, we can't be sure. We can only wait and see.