There are currently a lot of controversies in the US government at the moment, one of them is the battle between former Federal Bureau Investigation director James Comey and US President Donald Trump as well as the Republicans.
Comey was assigned by former president Barack Obama back in 2013, he was then responsible to handle the investigation of the email controversy of former Secretary of State, Hillary Clinton. He also became even more controversial when he took part in the 2016 presidential elections, after opening Clinton's case just two weeks after the presidential elections.
Comey just made republicans put him on their target spot after he drafted an exoneration letter for Clinton, despite the fact that the investigation wasn't even over yet. This then led to Trump dismissing Comey last year, but the White House said that they removed Comey "to ease the pressure" form the Russia probe investigation. Now, Trump and his allies are furious over everything that Comey has been saying.
ABC News / Youtube
Comey Bares It All On His Memoir
On Tuesday, former FBI director James Comey will be releasing his memoir entitled "A Higher Loyalty" and the Republicans together with Trump is too far from being happy about it. Comey said that he mentioned in his memoir how he compared Trump to a Mafia boss. He would know how a Mafia boss would be like since he was the one who helped break up the Gambino family. Comey described how during the times that he has to interact with the president, it seemed like he was interacting with the Mob boss who is in full charge.
Loyalty above all is something that would fill the room, there is no place for truth and morality. Comey also mentioned how back in 2013, he discovered that Trump used to watch prostitutes urinate on a trip to Moscow, Russia. Comey then said that Trump would, of course, deny all these claims and so he asked Comey to disprove them since it would be bad for his wife, Melania. He even revealed that he broached this issue in the Trump Tower, just a couple of days before the inauguration.
The big questions in Comey's badly reviewed book aren't answered like, how come he gave up Classified Information (jail), why did he lie to Congress (jail), why did the DNC refuse to give Server to the FBI (why didn't they TAKE it), why the phony memos, McCabe's $700,000 & more?

— Donald J. Trump (@realDonaldTrump) April 15, 2018
During an interview with ABC News while he was promoting his memoir, he mentioned that his conversation with the president made it seem as if he was asking a rhetorical question since he was being incredibly defensive about it.
He even said that the fact that the president rarely smiles, is a sign that he is actually insecure, and laughing or smiling might make him feel vulnerable. Comey then described the president as "unethical, untethered to truth and institutional values" with ego-driven leadership.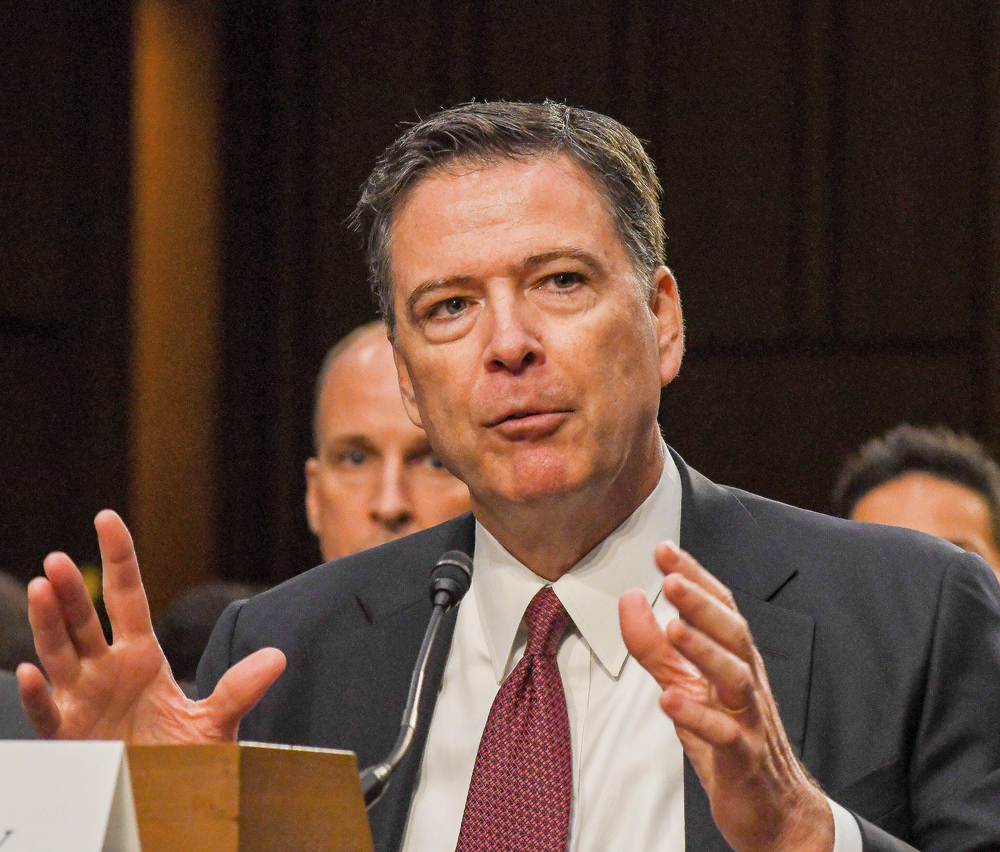 mark reinstein / Shutterstock
Republicans and Trump Plans On Comey
He had been called so many names over the past few months, like a liar, good for nothing, useless, and more. The Republican Party is planning an all-out campaign against the former FBI director for weeks now. They even made a website wherein it basically explains how Comey is not a credible source and is simply seeking for revenge.
The White House even approved of this said website against Comey that is being overlooked by the Republican National Committee. In fact, last Thursday, they already started an ad campaign by releasing a mock cover of his memoir even before it gets released. They even made a mock review section of the book wherein it says how Comey is a political player and is a liar.
Trump, of course, had to attack Comey on twitter by posting multiple times. The president denied what Comey said about asking for his loyalty and even explained how he doesn't exactly know the guy so obviously he is lying. Trump also referred to Comey as a "slimeball" after saying that Comey simply thought Clinton will win since he wants a job. The president also mentioned how Comey should be in jail for obstruction of justice after lying a couple of times. The Republicans, on the other hand, are encouraging the Democrats on joining them as they boycott Comey.
I never asked Comey for Personal Loyalty. I hardly even knew this guy. Just another of his many lies. His "memos" are self serving and FAKE!

— Donald J. Trump (@realDonaldTrump) April 15, 2018
Bookstores all over the country have already ordered extra copies of Comey's memoir because of how much drama it is causing the Trump administration. His memoir entitled, "A Higher Loyalty: Truth, Lies, and Leadership" is available now on pre-order on Amazon and Barnes & Noble's and is already on the best-selling category even if it hasn't hit the shelves until Tuesday, April 17th.