For seniors to maintain proper mobility, balance, and independence, you need to prioritize foot health. Eight essential foot care practices help maintain overall foot health in seniors and keep them healthy and comfortable. This is especially important because, as a person ages, their feet take quite a toll.
People also foot care easily, despite its importance. With time, feet flatten and widen. With the natural fatty padding wearing down to leave the joints and the bones of the feet, it is going to increase the wear and tear.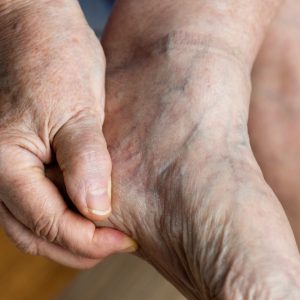 A simple blister has the potential to impair balance, mobility, and general function in the elderly. Other injuries to the foot like sprains, skin breaks, ingrown toenails, fractures, or neuropathy could all result in a domino effect. It ultimately leads to several other health conditions. The following eight-foot care tips for seniors will greatly reduce the risk of these health conditions developing in seniors.
Foot Hygiene
Proper foot hygiene is crucial for the prevention of viral, fungal, or bacterial foot infections. This means you have to carry out routine foot hygiene practices frequently. Elders who receive baths with assistance on certain days of the week will need a separate foot hygiene care. This will have to take place outside of the bath or the shower.
This means that on days when persons in elder care are not receiving bath with full assistance, they will need help with wiping their feet. One could use a simple soap solution to ensure that their feet are clean and fresh. If one washes and wipes their feet at night, it could promote restful sleep!
Foot Moisturization
Proper moisturization of the feet is important to prevent breaking or cracking of the skin on foot. Since dry skin is at increased risk of flaking and breaking, there is then an increased risk of open foot sores developing. Ensuring that the feet are slathered in a moisturizing foot lotion after washing and wiping are necessary. It helps maintain the softness and suppleness of the skin.
After applying a moisturizing lotion, you should cover your feet in a breathable fabric, like cotton socks, for example. This is mainly for warmth and comfort. Besides that, it also prevents clamminess in the event of sweating. And thus prevents the feet from becoming a breeding ground for bacteria or fungi.
Nail Trimming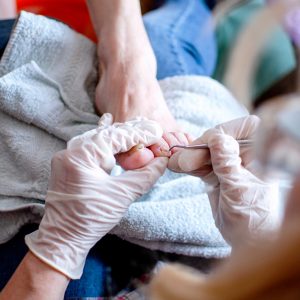 Maintaining short toenails is a very important part of foot care in the elderly. Should the aged have overgrown toenails, it could cause pain in their feet or even interfere with their walking, causing instability and discomfort. Trimming the toenails can be done very easily by whoever is caring for the elderly person, or even done at a local nail care clinic that specializes in senior foot care.
An alternative is to visit a podiatrist who may offer such nail care services. In the event of elders who suffer from health conditions related to their feet, professional care may be necessary. It may even be the case that the aged person in question suffers from numerous conditions. This includes the likes of dementia, causing them paranoia, fear, or general discomfort when it comes to trimming their nails. In this case, trying a more spa-like nail trimming experience may be better. It may also be beneficial to massage or soak their feet to help them relax to ease their discomfort somewhat, or perhaps put on their favorite film or TV show.
Sore Monitoring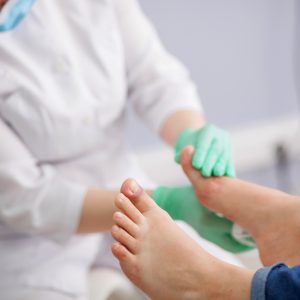 A very common area for bedsores to erupt is on the heels of the feet. This is especially common in the aged who are bedridden or who spend long periods in bed or on a chair.
The sores are a result of continuously resting the heels of the feet on a surface, be it a pillow, the floor, or even the mattress. The continuous pressure to that area of the foot leads to irritation and eventually to the breakdown of tissue in that specific area. Bedsores are potentially life-threatening, as they can become seriously infected if not watched and treated correctly. This can be avoided by propping up the feet by the ankles to suspend the feet in the air without having any surface in contact with the feet or the heels.
If you have pain in your feet, address it immediately, and have a professional examine your feet. Promote circulation by short walks and massages. It prevents blood clots and improves foot health. Wearing footwear of the right size is equally important too. This is because the wrong size of footwear can cause numerous health issues. Prevention is better than cure, so put these tips into practice to ensure that the elderly in your life do not suffer from any preventable health conditions related to their feet!