Healthy living is a concept that encompasses far more than just your diet. Meet Keri Glassman, the founder of the nutrition and wellness education program called Nutritious Life. Keri set on her journey to develop her unique nutrition plan and wellness program almost two decades ago, and what sets her program apart from the rest s the fact that it isn't only about what is on your plate. Keri's plan acknowledges that your dietary intake is one piece of the health and wellness puzzle, and she has identified eight pillars of healthy living that overlap to form a bigger picture.
Keri's plan incorporates the importance of good sleep and proper stress management in her wellness program. She also recognizes the importance of healthy relationships in the bigger scheme of health. While we admire Keri's fascinating perspective on health, today what we really would like to do is take a look at her plate! Let's dive into Keri's diet and see what she eats in a day!
Breakfast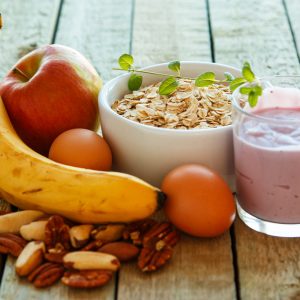 Keri is big on breakfast! She makes sure that her day begins with a meal of healthy fats, protein, and some vegetables. Usually, Keri kicks off with a smoothie jam-packed with healthy greens and follows it with an egg scramble with vegetables or berries on the side. Keri also shares that she has a small side salad with her breakfast, and she washes everything down with two cups of coffee with a splash of almond milk. The rest of her day is when she sips on herbal tea!
Mid-Morning Snack
Keri admits that she usually can't make it to lunch without a snack to keep her going! Usually, Keri focuses on a snack high in protein and with a bit of healthy fat for satiety. Since she tries to squeeze vegetables in ith every meal, snacks also incorporate a veggie element! Examples of snacks Keri nibble on are a small serving of olives, mixed nuts or a scoop of nut butter, an avocado with a crack of pepper and sea salt or a similar snack that is high in protein and fat.
Lunch
Keri's lunch is typically a combination o whatever vegetable she has in her home and any leftover protein like meat or legumes from her dinner the night before. Keri shares that she dresses her salads and veggies with her own homemade dressing (a very good tip, since most commercial dressings are laden with sodium, sugar, and preservatives! Empty calories are a no-no!). Keri likes to sprinkle her meal with a light handful of seeds or nuts for an extra little nutritional boost.
Mid-Afternoon Snack
The same way Keri needs a little snack to keep her going between breakfast and lunch, she needs one to keep the engines firing between lunch and dinner as well! Keri expresses that she rarely goes with her mid-afternoon snack. This is a healthy snack of a simple fruit with nut butter, like an apple topped with almond butter and a sprinkling of coconut chips. Keri also keeps convenient packets of green juice powder at hand when she is out, for a quick and nutritious glass of green juice on the go – all it takes is a stir of the powder into a glass of water and it's ready!
Dinner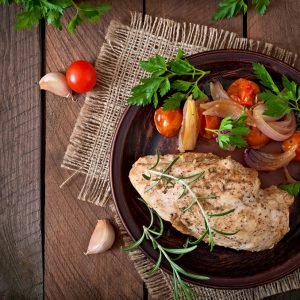 Dinner at Keri's home is an affair of raw vegetables, cooked vegetables, lean protein and perhaps a grain or potato for good measure. Pulling together inner is simple but nutritious and an example of a standard dinner meal is a skillet cooked salmon and steamed artichokes on a bed of arugula, served with a fresh arrangement of chopped carrots, cucumbers, endive, and radish. She also put together a kale Caesar salad. Keri shares that she indulges in a glass of wine with dinner on occasion, but not always. Before bed, Keri tops off her day with a nightcap of chamomile tea, to induce a restful sleep!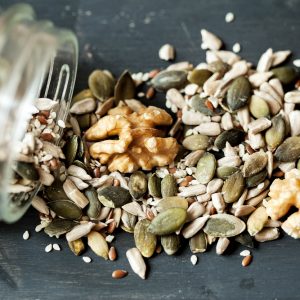 Now that you have an idea of what Keri Glassman eats in her typical day, you can pull together a shopping list and grab a few items to introduce some healthier elements in your meals throughout the day. Think of chia seeds, hemp seeds, nut butter, flax seeds, and dried berries to have at hand to toss in a salad or over a bowl of veggies and seared meat. Powdered green juice, avocadoes, and packages of no-added-sugar dried fruit and olives or mixed nuts are great to have at hand as well if you're looking to follow a diet similar to Keri Glassman's!