This small and nutritious fruit might have never caught your fancy before. That's normal since many of us aren't even aware of its health benefits. Ribes uva-crispa and Ribes hirtellum are the European and American varieties of the fruit respectively and the most common ones available. A gooseberry weighs around 3 to 6 grams and can be red, yellowish white, dark purple, pink, or green in color. You would do yourself a world of good if you incorporate gooseberries to your diet. So, how will the fruit benefit you? To know in details, continue reading.
The Nutrition Quotient Of Gooseberries Is Pretty High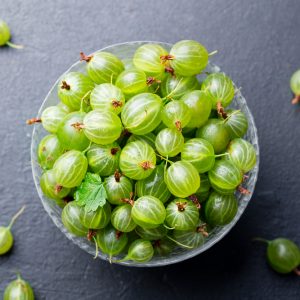 Despite having low amounts of calories and fats, gooseberries are highly nutritious. From a cup of gooseberries, you obtain 1 gram of protein, less than 1 gram of fat, 15 grams of carbohydrates, 7 grams of fiber, and 66 calories. Vitamin C takes up almost 46% of the daily value, while Vitamin B5 and Vitamin B6 are almost 9% and 6%. Aside from that, you get 12% copper, 9% manganese, and 6% potassium. Gooseberries are necessary for your diet as they create fatty acids and are indispensable for your immune system, nervous system, and skin as well. They are also important for your brain, heart, and blood vessels. Gooseberries support reproduction, metabolism, bone formation, and proper functioning of the cells. So many benefits in such a tiny fruit, right?
It Has High Fiber Content And Low Amount Of Calories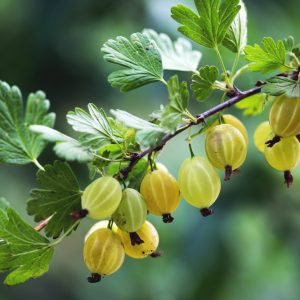 Food with high fiber content enables you to eat decently without taking in excess calories in the process. Gooseberries are known to contribute around 3% of the total calorie-count you need in a day. Berries help in weight loss and that's a proven fact. In fact, if you choose gooseberries as a snack, you are more likely to consume fewer calories during your next meal. The figure is much less than the number of calories one consumes from any dessert or sweets. Moving on, both soluble and insoluble dietary fiber can be derived from the fruit and that makes gooseberries a vital part of your diet. It helps in bulking up your stool and boosts consistency. The fruit controls your blood sugar level and helps in diminishing the risks of cancers, heart disease, obesity, type II diabetes, cholesterol, high blood pressure, and other chronic conditions.
Gooseberries Are Laden With Antioxidants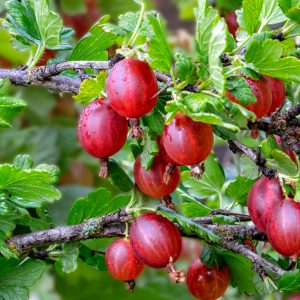 Antioxidants destroy free radicals which are the main cause of several chronic diseases.  The reactive molecules do a lot of damage to your cells and push you into oxidative stress. This then leads to premature aging. Gooseberries, with its high content of antioxidants, help your body fight cancer, type II diabetes, aging, and heart disease. Additionally, they shield your brain from degenerative diseases like amyotrophic lateral sclerosis or ALS. The fruit is also laden with phytonutrients such as flavonols, anthocyanins, organic acids, and aromatic acids. These phytonutrients in gooseberries play a key role in boosting healthy aging, improved memory, and better health of your urinary tract.
This Fruit Is Good For The Heart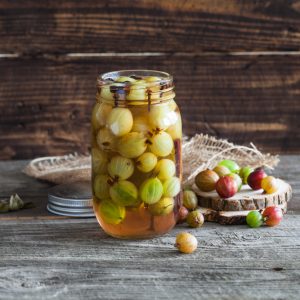 Berries have an amazing effect on your heart and are credited for reducing the risk of heart disease. Potassium and antioxidants present in gooseberries boost the health of your heart. Antioxidants are known to shut out the oxidation of LDL or bad cholesterol that's present in your bloodstream. This, in turn, automatically lowers the possibilities of heart disease. Gooseberries also help in boosting the health and functioning of the blood vessels. You can keep your blood pressure in check if you add these berries to your diet.
It Can Be Added To Your Plate Easily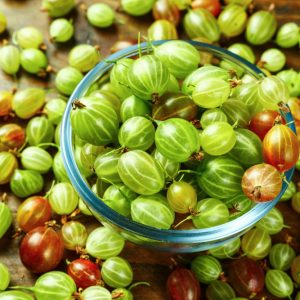 Eating raw gooseberries is the best way to consume them to get maximum benefits. As they ripen, gooseberries are really sweet to eat. Wash them properly before you eat them. Once you are done with its preparation, gooseberries can be a really healthy snack. You can include them in your fruit salads or use them in your plate of summer salad. You can also use the fruit for cooking and baking dishes like jams, pies, tarts, and cordial.
All in all, gooseberries are a great inclusion if you want an all-inclusive healthy diet. A proper consumption can help you reap a lot of benefits which will keep you in the pink of your health in the long run.